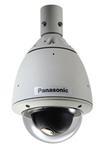 General
Information
The new
Panasonic WV-CW864 A replaces the WV-CW864.
The Panasonic
weather proof color dome camera; WV-CW864A is ideal for a variety of
application including outdoor parking lots, theme parks, shopping malls,
airports, train stations and highways.
The
integrated housing design is perfect for all weather outdoor use. It features a
color camera with a 22x zoom lens, high-speed panning table, our exclusive Super dynamic II technology and day/night operation, crisp
clear images with 510 lines of resolution. Pix sens
up function delivers black-and-white images in as little as
.03 lux of light conditions.
New
Features
A "Return to Mode"
"Pix SensUp"
feature provides increased sensitivity
510 lines of horizontal
resolution in color mode, 570 lines in B/W mode
Features
Meets IP66 international
standard for all weather proof environmental structures
Operating temperature range
-30degrees C to +50 degrees C (-22 degrees F to +122 degrees F)
Super Dynamic II corrects
high-contrast or backlit lighting problems
Automatic selection of color or
b/w modes
Minimum illumination is .03 lux at b/w, 1 lux at color
Maximum panning speed of 300
degrees/sec, range 360 degrees horizontal and 190 degrees vertical
Return to Pan Function
64 preset positions
Image hold function eliminates creen blurring
220x optical zoom, 10x
electronic zoom
4 alarm inputs, 2 alarm outputs
Video image, control data,
synchronization signals, and alarm signals transmitted over coax cable up
to 3000 feet
RS-485 data communications for
extended distances
Horizontal resolution of 510
lines (High) for color imaging, 570 for b/w
Digital Flip Function
Privacy Zone Masking Function
Motion Detector Function
Camera ID display
Optional Sun Shield WV-7176
available