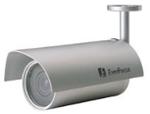 General
Information
The new EverFocus EZ300 series offers great performance in
1/3" image format color CCD camera. The EZ300 is ideal for outdoor
applications such as parking lots, gas stations or shopping malls. The
sophisticated circuit design provides a heater that turns on at 49 degrees
Fahrenheit/10 degrees Celsius for cold weather. The EZ300 will provide
protection against the elements and provide an excellent quality picture.
Features
High-Resolution: 480TV Lines.
Built-in vari-focal
3.5-8mm lens for versatile application.
Designed with sturdy aluminum
shell specifically for outdoor surveillance.
Removable sun shield.
The heater allows the camera to
be used in extremely low temperature to -46 C
12 Volt DC Power Supply
included.