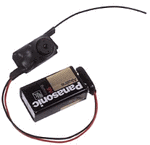 General Information & Features
Wireless miniature spy hidden camera, with 3.6mm wide-angle lens. Transmits B/W or Color video up to 700\'(line of sight). It has a pinhole size lens, which means you can basically cover the whole camera and all that has to show in order to get a crystal clear picture is that tiny pinhole lens in the middle. It is very simple to install practically just plug and play. Works for up to 10 hours on a single 9-volt battery. Can be mounted just about anywhere. Camera features 380/420 lines of resolution. 1″ x 1/2″ x 1/2″.
Applications include:
Body Cam
Law enforcement
Covert surveillance
Industrial, Commercial and Retail Site Monitoring
Anywhere you would use a video camera
Includes: Receiver, 9 Volt DC battery.
ST-100A B/W Wireless Camera with 434MHz Transmitter transmits to TV channel 59 (Pinhole Lens)
ST-100AC-P Color Wireless Camera with 434MHz Transmitter transmits to TV channel 59 (Pinhole Lens)
ST-100B B/W Wireless Camera with 900MHz Transmitter & Receiver (Pinhole Lens)
ST-100BC-P Color Wireless Camera with 900MHz Transmitter & Receiver (Pinhole Lens)