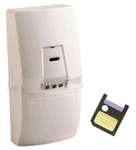 General Information
The MemoCamTM system includes a CCD camera, a video compression engine, a removable Memory Card and a PIR detector. It automatically records events on the memory card following an alarm. The recording can be activated by an external open contact, an internal PIR detector or by an external remote control unit.To analyze the recorded events, the memory card can be removed from the MemoCamTM unit and images downloaded to a PC using a Memory Card Reader.FEATURES:
Stand-alone integrated CCTV system packaged in a standard PIR detector case.
B/W camera.
Automatic recording upon alarm.
Standard 8 Mb memory card can contain up to 1500 recorded images on a single card. 32 Mb card can contain up to 6000 images.
Automatic setup using the Memory Card.
User defined image quality, frame rate, and recording time per event, delay between frames, and more.
Remote Control unit.
Covert case.
BENEFITS:
The stand-alone MemoCam replaces the classic Time Lapse DVR + PIR detector + Camera equipment set.
Modular solution from single camera to multiple site/multiple camera systems.
Easy to use PC software.
Economical system expansion
APPLICATION:
Image and event recording anywhere, especially where wire connections are impossible or difficult.
Unattended automatic recording at any site.
Mobile applications.
DEVICE SETUP:
All camera functions are configured on the Memory Card. The configuration parameters are setup using the MemoCam  software on a PC connected to a Memory Card reader. Configuration parameters include:
o Recording.
o Triggering.
o Arming.
o Maintenance (e.g. Clear the memory, Status of available memory, etc.)
o Image retrieval.
o Time and Date.
REMOTE CONTROL FEATURE:
Each camera is equipped with a remote control unit with the following functions:
o Arm.
o Disarm (Code-protected).
o Record frame.
o Preset functions.
ARMING/DISARMING:
Each camera can be armed or disarmed using the remote control.
EVENT RECORDING:
A new event file is recorded upon alarm activation. Each event is recorded according to the MemoCam configuration as follows:
Fixed memory mode – Recording stops when the memory card is full.
Cyclic mode – When the memory card is full, new events are recorded over previous events in the memory card queue