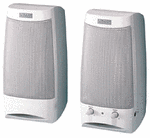 General Information & Features
Our Computer Speakers feature a Wireless Hidden Camera with a powerful 2.4GHz transmitter and receiver with 4 Channels. Working Computer speakers- perfect for home or office.
Powerful 4 channel receiver included.
Transmits up to 600 feet.
420 line resolution B/W, 0.1 lux
380 line resolution COLOR, 0.5 lux.