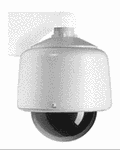 General Information
Pelco Spectra III SE dome system. Outdoor pendant mount, 22X high res. Color camera, 1/4-inch Ex-View CCD 0.02 lux 1/2 sec shutter speed, choice of lower dome, EIA. 24 VAC nominal.
Pelco introduces the next generation of its premier integrated dome system, Spectra III SE. This industry leading system boasts many innovative new features.
Spectra III SE features multiple back box configurations and three auto focus, high-resolution dome drives with programmable software.
Spectra III SE's back box models feature built-in memory to store camera and location-specific dome settings, including labels, presets, patterns, and zones. These settings are automatically downloaded if a new dome drive is installed. Two new back box models have been added to the line: an environmental in-ceiling model for outdoor soffits and an indoor surface mount model that installs quickly and easily to any type of ceiling.
Spectra III SE's dome drives include a choice of a color/black and white camera with an infrared cut filter, 80X wide dynamic range, and motion detection; a color camera; or a monochrome camera. The color and monochrome cameras use Exview HAD CCD and LowLight technology.
Spectra III SE dome systems feature many new software enhancements that increase performance and make programming and operation easy. Window blanking allows a user to program up to eight, four-sided, user-defined privacy areas. Password protection prevents unauthorized users from changing the system setup and other sensitive dome drive settings.
Other new features include an on-screen compass and tilt display; Multi-Language menus programmable for English, Spanish, Portuguese, Italian, French, and German; and an RJ-45 data port for software uploads and on-site setup and programming.
Spectra III SE\'s variable speed capabilities range from a smooth, fast pan motion of 360 per second to a smooth "creep" speed of .1 per second. The system is capable of 360 rotation and has an "auto flip" feature that allows the dome to rotate 180 and reposition itself for uninterrupted viewing of any subject that passes directly beneath the dome.
Product Features
Three Auto Focus, High-Resolution Integrated Camera/Optics Packages; Five Back Box Models
Color/Black and White, 80X Wide Dynamic Range, and Motion Detection (SD53CBW Series)
Built-in Back Box Memory
ExView HADў CCD (SD53M22 and SD53C22 Series)
Window Blanking
Horizontal and Zone Blanking
RJ-45 Data Port for Software Update and Setup
On-Screen Compass and Tilt Display
Multi-Language On-Screen Menus
Password Protection
Freeze Frame During Presets
7 Alarm Inputs; 2 Programmable Auxiliary Outputs
Built-in Power Line Surge and Lightning Protection
Easy to Install Ђ Quick and Simple Electrical Connections
Indoor/Outdoor Applications