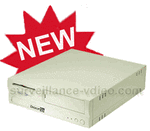 General
Information
The New General Solutions DigiOp Mini Chassis
8 channel digital video recorder with 80GB hard drive and superb true quality
image recording at 60fps. DigiOp G2 products offer 500HTVL
resolution at 640 x 480 for true DVD quality recording capability and superb
rate of recording up to 240fps. DigiOp G2 products
come with built-in reliability and stability with XP Embedded/Windows 2000
Operating System, Hardware Watchdog circuitry. DigiOp2 have auto Hard Disc Drive recovery technology mean increased reliability
and reduced total cost of operation. General Solution products offer a low cost
DVR solution in a full featured package. This exciting new unit has the
capability to send live or prerecorded video thru the internet.
Features
8 Channel Inputs with 80GB Hard
Drive
CDRW and Floppy Drives
60fps Recording and 60fps
Display
4/2 Sensor/Controls and Windows
XP Embedded
Supports up to 2 Hard
Drives(Must Remove CDRW)
Ethernet Connection, and Mouse
Remote Agent and Web Agent
Software