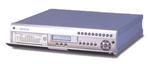 General
Information
The Samsung
EZ-Drive4, is a 4 channel Digital Video Recorder, combines the power of triplex
multiplexing and digital video recording into one unit. The compact design is
suitable for conventional surveillance in limited spaces where only 4 cameras
are required. The EZ series digital video recoder
gives you 120F/S live viewing and upto 30F/s
recording. This exciting new unit has the capability to send live or
prerecorded video thru the internet.
Features
4 Channel Digital Video
Recorder
120fps Live & 30fps Record
Duplex Process
Network Ready (LAN, ISDN,
TI/EI, AASL/DSL)
40 GB HD
Hot Swappable IDE Removable
Carriage Only, no HD
Wireless Remote Control