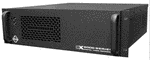 General
Information
The Pelco DX2000 Series DVR is the perfect storage solution for
unattended recording. Phenomenal compression technology and flexible, internal
storage capacity alleviate the need for on-site personnel and external storage
devices. In addition to traditional concerns, todayЂs users in many industries
demand an additional level of integration from their DVRs
with regard to ATMs, POS terminals, and other devices.