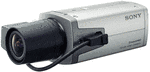 General Information
Replaces
previous Sony camera model SPTM124. The new SSC-M183 camera features an
aesthetically pleasing and compact design that is perfectly suited for
commercial and fashionable facilities such as retail sales, shopping malls,
stadiums, arenas, banks and office buildings. Incorporating the latest Sony CCD
technology, this camera produces images with high picture quality and
remarkable sensitivity with a S/N ratio of more than
50 dB. In addition, this camera offers dual power capability (AC 24V and DC
12V) to safeguard against unwanted power supply compatibility issues. Set up is
a breeze with tripod screw holes already located on the top and bottom of the camera. The new SSC-M183 camera offers excellent
performance, dependability and a sophisticated design.
Highlights
High Picture Quality: The SSC-M183 incorporates a 1/3 type IT CCD with
Super HAD technology that achieves a horizontal resolution of 330 TV lines and a
minimum illumination of 0.06 lux at F1.2 (50 IRE).
Compact and Stylish Design: With dimensions of 60 (W) x 54 (H) x 120 (D)
mm and weighing only 360 g, this compact camera can easily be installed in
places where space is limited and installation was previously difficult for
larger cameras. Its stylish and unobtrusive, metallic-silver deign will
compliment any decor.
Tripod Screw Holes: Installation and set up is a breeze with tripod
screw holes already located on the top and bottom of the camera! No need for
special tripod adaptor.
Back-Light Compensation (BLC): Unwanted backlighting can often cause the
subject matter of the image to be cast into shadows. The Back-Light
Compensation (BLC) feature incorporated in this camera will
automatically compensate for such conditions and allow the subject to be
easily visible with an improved level of object recognition.
AC 24 V/DC 12 V Operation: This camera accepts either AC 24 V or DC 12 V
power sources and will automatically switch to the appropriate mode upon
receiving power.
CS-Mount: The SSC-M183 can be used with CS-mount lenses, allowing for
easy and precise back-focus adjustments.
Features
1/3
Type IT CCD with Super HAD technology
High
Resolution: 380 TV Lines
Minimum
Illumination: 0.06 lux @ F1.2 – 50 IRE
Automatic
Back-Light Compensation
Turbo
AGC (up to 24dB) for clear, distinguishable images
Accepts
DC Servo or Video Servo Lenses