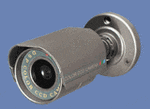 General Information
Our color bullet camera has a built-in 4.3mm auto iris lens. It
features advanced technology and a 470 line ultra high resolution with a 0.03 lux low light sensitivity and is day/night programmed. With
coated front glass,it also
has low smear level, which prevents glare in dark conditions, pre-set auto
exposure, and turbo AGC (automatic gain control). The dark gray housing is also
weatherproof. Look up our other available Heat Series cameras.
Technical Specifications
Dimensions: 5.8″L x 2.3″W x 2.8″H
Electronic Shutter: 1/60 – 1/100,000 seconds
Housing Color :Dark Gray
Image Device: 1/3 inch color advanced image sensor
Lens: Built-in 4.3mm auto iris lens
Minimum Illumination: 0.03 lux low
light sensitivity
Operating Temperature: – 20 degreed – 122 degree F
Power Consumption: 130 mA
Power Supply: Regulated 12V DC power supply (UL and CSA listed)
included
Resolution: Ultra high 470 line
Video Ouput: 1.0 Vp-p
75 ohm
Video S/N Ratio: Greater than 50 dB
Weight: 11.2 oz.