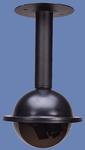 General Information:
Our 1/3 B/W CCD dome camera is equipped with a
steel ceiling mounting pole bracket. It has a 0.02 lux
with 420 line resolution. It features a 3.6mm wide angle lens and built-in
electronic shutter. An adjustable inside camera mount and 12V DC power supply are also included. A color version of this camera can be
found under model number CVC-680CD.
Technical Specifications
Dimensions: 5.25″L x 4.5″W x 4.5″H
Electronic Shutter: auto 1/60-1/100,000 sec.
Housing: Black Metal ABS Dome
Humidity: Within 95 % RH
Image Device: 1/3″ B/W CCD image sensor
Lens: 3.6mm, Hor. 72, Vert. 53
Lens Options: 2.5, 6, 8, 12mm
Minimum Illumination: 0.02 lux F 1-8
Number of Pixels: 512 horizontal x 492 vertical
Operating Temperature: 14F – 122F
Outputs: Video – RCA with BNC adapter, power – DC jack
Power Consumption: 150 mA
Power Supply: Regulated 12V DC power supply included (UL and CSA
listed)
Resolution: 420 lines
Scanning Frequency: Horizontal 15.75 kHz vertical 60 Hz
Scanning System: EIA standard 525 line 60 fields/second
Video Output Level: 1.0 Vp-p 75 ohm
Video S/N Ratio: Greater than 46 dB
Weight: 8 oz.