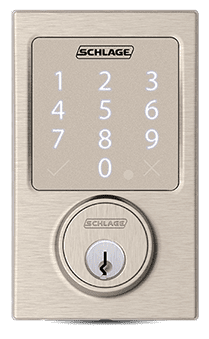 The Schlage Sense Smart Deadbolt Lock is one of the strongest, most intelligent Bluetooth® ready locking devices on the market making it an ideal choice for big city living.  Giving you such options as the ability to enter your home by using your iPhone or to receive potential threat alerts through a high tech sensor system which are ideal features for those constantly on the go.
Let one of our Schlage lock experts show you why "smart locks" are the protection systems of the future.
Schlage Sense Smart Deadbolt
Installation in New York City
We sell, install and service the best smart locks in the Security industry and depending on what your needs are and what you're looking for, we can develop a custom solution to meet your needs!
Did you know that Mr. Lock offers free quotes and consultations?
The technology of the future is available today, and Mr. Lock is your experienced and New York City local security expert.
Call us today at 866-675-6257 to speak with one of our licensed and bonded security professionals.