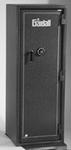 Features
3/16″ Steel recessed pry resistant door.
1/8″ Body
4 Active chrome plated round bolts with a 1-1/4″ throw behind a 1/4″ thick door jamb. Jamb is continuous around body frame.
Safes feature U.L. listed Group II combination or electronic push button lock.
Independent relocking device in addition to re-locker in lock.
Hard plate in front of lock (case hardened – 1/8″).
Shear point handle designed to break off flush if forced.
Full length locking bar on hinged side to prevent forced entry.
Reinforced door jambs with 1/4″ steel collar.
4 Anchoring holes in base of safe to bolt safe to floor.
Pre-drilled hole in back of safe body to provide electrical access for dehumidifier or a light.
Optional carpeted interiors available.
Available in Tan or Grey
Model GS6022 Specifications
Outside Dimensions Inside Dimensions Door Body Approx. Weight
61″ H x 22″ W x 17-1/2″ D 60-3/4″ H x 21-1/2″ W x 13″ D 3/16″ 1/8″ 300 lbs.
MODEL # DESCRIPTION
GS6022 Empty Interior
GS6022 13 Gun
GS6022 19 Gun
GS6022 4 Shelves
OPTIONS:
Single Key Operation S&G Key-Op Lock
Group II Electronic Push Button Lock