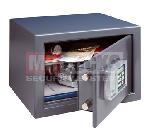 * 2 override keys for lost or forgotten access codes.
* Double-walled door for maximum security and durability.
* Designed to be installed in a cupboard or a desk.
* No external wiring required.
* Powered by 5AA batteries.
* Easily set your own access code.
* Change your code at any time.
* Set your own master pass code.
* Felt pad at base of interior to protect your valuables from scratches.
* May be anchored to a wall or the floor.
Exterior Dimensions: 10.0″(H)x13.8″(W)x11.8″(D)
Interior Dimensions: 9.8″(H)x13.5″(W)x 9.5″(D)
Capacity: 1,292 cubic inches
Weight: 36 lbs.