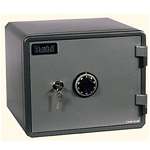 Gardall – MS912-G-CK – 1-Hour Microwave Fire Safe with strong body design for enhanced safety and security. Gardall fireproof safes with individual packaging for UPS type shipping and programmable electronic lock. Comprised of center bolt down and Pull-out shelf for storage. Features with dual security key and combination.Standard Features :
Model
Outside Dimensions
H W D
Inside Dimensions
H W D
Approx. Wt. (lbs.)
Description
Retail Price
*MS912-G-CK
13½"16¾" 15¼"
9½" 12¾"10¼"
85
Horizontal 1 Hr Fire Safe with Combination Lock
get price
* U.L. 350° One-Hour Label – Fire and Impact Test
Add 1½" to outside depth for dial and handle.