Ready to crack the code when it comes to the future of locking technology? The Mul-T-Lock "Code-It" handle has an integrated electromechanical locking mechanism, which is only accessible to those with the proper personal code.
The Code-It locking system also has security solutions for widows with interior handles as well as patio and balcony doors. Contact us today to learn more about why "Code-It" handles are some of the best property protectors in the buisness.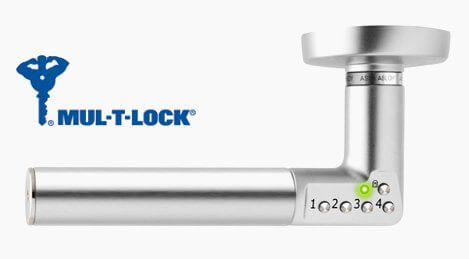 Mr. Locks is an authorized dealer and professional installer of Mul-T-Lock® products in New York City. Get a installation quote today and feel safer tomorrow!
Applications
For interior use.
Compatible with most types of locking/latching products.
Features
Keyless locking
2 operating modes: Automatic locking; Manual locking
4-to 6-digit personal code for opening
Locks only from the door's exterior side
Wire-free installation