We live in an era when digital technology has taken centre stage, with innovative products improving our daily lives and enhancing security. Mr. Locks is proud to introduce one of the latest advancements in home security, the Yale Look™ Door Viewer. This is a great digital product that replaces your traditional peephole.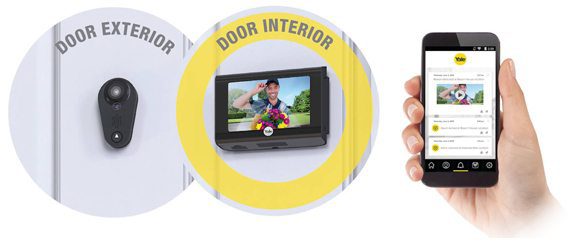 Advanced Peephole Technology
The Yale Look™ Door Viewer replaces your traditional peephole allowing you to see, listen to, and speak with visitors as they arrive at your property. Whenever someone rings your doorbell, or triggers the built-in motion sensor, a 720p HD camera is activated. Depending on settings, you can receive notifications, viewing images, and live videos on a 4.3 inch LCD monitor and Yale Look™ smartphone app.
Live Communication with Guests
The Yale Look™ Door Viewer gives you live two-way audio and video communication with your guest, whether you are inside your home or out on the move. The camera can also snap photographs, which can be stored in the cloud or on a micro-SD card, with timestamps for your reference.
Z-Wave Compatible
The Z-Wave version of the product offers even more features, including the ability to receive notifications for low battery, alarm tampering, doorbell use, and motion sensor detection. The Z-Wave can also be combined with other smart products to create an integrated home that is a joy to live in.