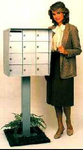 General Information
Outdoor Free-Standing Pedestal Mailbox. Available in 8,12 or 16 compartment sizes. Available in a variety of finishes. Mounts on structural steel pedestal (painted finish)
The Alpha Communications/Florence 1580 Series pedestal mail boxes are designed to be used in residential or commercial applications, requiring mail boxes to be provided in a 'cluster', and are usually used outdoors. Made of heavy-gauge aluminum, these boxes are made to stand up to Mother Nature and the elements. Each unit of 8, 12, or 16 compartments is bolted directly to the concrete base, by means of a pedestal stand (Model #1582), which is made of structural steel, and painted in a matching finish. Mail insertion is done through the rear of the mail box, and the master door latches at a minimum of three (3) separate points. The master door opens a full 180 degrees, for loading convenience. Each compartment features 1/2″ high permanently engraved door markings and a 5-pin cam type lock with spring loaded cover (for protection against dust or moisture) and each lock is supplied with three (3) keys. Each compartment is 5.0″H (239mm) x 6.0″W (152mm) x 15.0″D (381mm) for large mail receiving capacity. The 1580 series pedestal mail boxes are no longer USPS approved under Publication 18. They are designed for non USPS applications only. If you need USPS approved mail boxes, we recommend that you use our 1575 series.
FEATURES
Rear Loading with Master Door that opens a full 180 Degrees
1/2″ High Permanently Engraved Door Markings
8, 12 and 16 Compartment Styles Available
Each Door Lock is Protected by a Spring Loaded Cover and Supplied with (3) Keys Each
Rugged and Good-Looking
Mounts on Structural Steel Pedestal Base
Made of Heavy-Duty Aluminum
Can be 'Grouped' in Multiple Units for Larger Mail Capacity
SPECIFICATIONS
Dimensions: Depends upon individual panel configuration.
Construction: Heavy 16 Gauge High-Carbon Stainless Steel Faceplate with Polycarbonate
directory window.
Tool Required: Star type head (6 lobe) screwdriver tip required for panel installation/removal and directory
name insertion and maintenance, included with each VI402 V.I.P. panel ordered.
ARCHITECTS' AND ENGINEERS' SPECIFICATIONS
The pedestal mail boxes shall be Alpha Communications/Florence 1580 series, or approved
equal, and shall be designed for indoor or direct outdoor use. Mail boxes shall be non-USPS
approved, and shall be installed only in non USPS installations. Mailboxes shall be (8, 12 or 16 com-
partment) type, and shall feature 1/2″ high permanently engraved door markings, 5-pin cam locks
with spring loaded covers, and supplied with three (3) keys each. Mail boxes shall be made of
heavy duty aluminum and shall be mounted on the Model #1582 pedestal base. Pedestal base
shall be made of structural steel and shall be painted in a matching finish. Pedestal base shall
be supplied with a flange, to allow contractor to securely fasten the pedestal unit to the concrete
base.
MODELS AVAILABLE
1580-42A: 8 Compartments (4 High x 2 Wide) Engraved 1-8.
13.50″W (343mm) x 22.50″H (572mm) x 22.0″D (559mm).
1580-43A: 12 Compartments (4 High x 3 Wide) Engraved 1-12.
20.00″W (508mm) x 22.50″H (572mm) x 22.0″D (559mm).
1580-44A: 16 Compartments (4 High x 4 Wide) Engraved 1-16.
26.50″W (673mm) x 22.50″H (572mm) x 22.0″D (559mm).
1582: PEDESTAL BASE ONLY. 32.00″H (813mm).