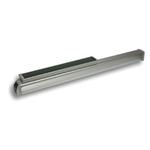 Pressure Sense Switch Bar
?
Building codes essentially state that egress through access controlled doors must not require prior knowledge of operational requirements. Meeting this criterion, pressure sense bars are designed to release electromagnetic door locks for uninhibited egress.
?
When slight pressure is applied to the non-latching bar, either of the two redundant solid state pressure to immediately release the electromagnetic door lock.
?
Optionally, a third redundant micro switch is automatically activated to release the door if either sensors or the electronics fail. This automatic emergency release switch does not require prior knowledge to find or use. Door operation will continue without the inconvenience of emergency service.
?
Mechanical Switch Bar
Designed to release door locks for uninhibited egress. When pressure is applied, a micros-switch is actuated, immediately releasing the electromagnetic or mechanical door lock.
This is an economical alternative to sensor activated bars. Some mechanical switch bars are sensitive enough to have a maximum movement of only 0.125″ (3.2mm) before release. Trigger activation to release the lock is quick and quiet.