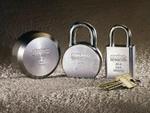 General Information
MetroLock padlocks feature solid hardened solid steel bodies that offer superior protection against sledgehammers and other physical attacks. The are available with traditional shackles or a unique "shackless" design to provide maximum protection against bolt cutter attacks. They can be keyed into Medeco cam and switch lock master key systems.
Features
Case hardened solid steel body provides excellent resistance against sawing, sledge hammers and other forms of attacks.
Cylinder retainer protects cylinders from dent puller attacks that generate up to 1,350 lbs. of force.
Case hardened alloy steel shackles resist up to 10,000 lbs. of pressure from bolt cutter attacks.
Dual ball bearing locking design protects against pulling shackle of up to 4,500 lbs. of force.
UL437 listing provides assurance that cylinders meet universal standards for drill and pick resistance and resistance against other types of forced attack.
Utility patented key control, (for cylinders that incorporate the Biaxial design), provides protection against the unauthorized duplication of keys.
A special elevating and rotating pin tumbler design, along with false groves on the bottom pins, and a sidebar mechanism, work together, to provide superior pick resistance.
Angled cuts on the keys, along with fore and aft positioning,in the Biaxial design, provide added dimensions that dramatically increases key combinations and enables Medeco to produce some of the largest master key systems in the industry.
Hardened steel inserts, positioned in critical areas of the cylinder, provide a high degree of drill resistance.