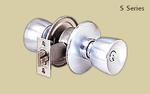 General Information
?
Door Thickness: 1-3/8″ to 1-7/8″ doors. Locks for thicker doors to 2-1/4″ also available.
Backset: 2-3/4″ standard; 2-3/8″, 3-3/4″ and 5″ also available.
Mechanism: Parts constructed of brass or cold formed steel, zinc plated and dichromated for rust resistance. Springs are stainless steel.
Attachment: Locks secured to door by threaded collars. Inner collar tightened by special wrench furnished with each lock. Outer rose contains locking plate to prevent unauthorized removal.
Handing: Specify hand of door when ordering. Field reversible.
Cylinders: Drilled with 6 pin chambers, pinned in 5. Pinning in 6 chambers available when specified, at no cost. Cylinder assemblies removable to rekey or change hand of lock. Also available with 6 or 7 pin interchangeable core cylinders Elite and Troy designs. Cylinder housings and plugs machined from solid brass. Springs phosphor bronze. Two nickel silver keys furnished standard.
Keyways: keyway standard on standard cylinders.?Keyway standard on interchangeable core cylinders. Also available with some optional keyways. See page 10.
Trim: Roses are heavy wrought brass or bronze, installed over wrought steel reinforcing plates. Knobs are brass or bronze secured by steel knob retainer which cannot be depressed when lock has been locked. See individual designs shown on pages 5 and 6 for details.
Latches: 1/2″ projection, UL Listed. Latches have self-adjusting fronts to accommodate beveled or flat doors. 2-3/8″ backset with 2-1/4″ x 1″ latchfaces. 2-3/4″, 3-3/4″ and 5″ backset with 2-1/4″ x 1-1/8″ latchfaces. Consult Options and Accessories section for other optional faceplates.
Strikes: 2-3/4″ x 1-1/8″ T-strike with curved lip to meet ANSI A115.2 door frame preparation standard. Consult Options and Accessories section for other strike sizes and configurations.
Screws: Furnished with combination wood/machine screws for use in wood or metal doors and frames.
ANSI/BHMA: Meets ANSI/BHMA A156.2, Series 4000, Grade 2.
UL: 3 hour A label.
?