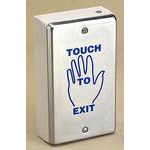 General Information & Features
Unique touch sensitive electronic wall switch that deactivates any electric lock.
Securitron patented touch sense technology applied to a wall plate control. No moving parts to wear out. Simple wall mounting in a durable plastic box and
heavy duty stainless steel plate. 16\' cable with connector provided.
DPST 1 amp contacts. Low amperage draw.
Built in timer releases the lock for up to 25 seconds.
Built-in redundant switch to release lock.
12 volt or 24 volt operation AC or DC.
Three part decal and status indicator LED included.
Handicapped symbol decal available