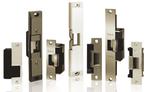 General
Information
HES
high-quality electric strikes meet all the needs of the medium to heavy-duty
security market. Positioned at the top of their respective categories in price
and performance, HES electric strikes provide flexible solutions for installers
with a variety of access control needs. Each incorporates distinct features
that together form a powerful system that simplifies complicated applications.
Peripherals
HES offers
a comprehensive line of peripheral security controls that complement their
innovative strike lines.
Accessories
Accessories
make it convenient and easy for the electronic locksmith to install any HES
product.