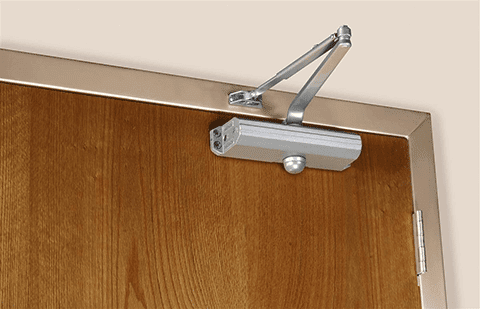 General Information & Features
The 1600BC/1601 Series Door Closers are designed to fit almost any application and are the choice of engineers worldwide. Ideal for use with aluminum storefront doors and frames, these closers have a history of proven quality and tradition.
PARALLEL RIGID ARM: available with 90 to 180 hold-open. Prefix "PR" to catalog number. Example: PR1604.
CORROSION RESISTANT SERIES: with stainless steel and other corrosion resistant material. Suffix "SS" to catalog number. Example: 1605SS
ADJUSTABLE DELAYED ACTION CLOSERS: suffix "DA" to catalog number. Not available in Series 1600BC closers.
ANSI 156.4 GRADE 1; UL LISTED; 10-YEAR WARRANTY; MADE IN USA.
MULTI-SIZE ADJUSTABLE SIZES 3 THRU 6 (1601).
BARRIER FREE ADJUSTABLE SIZES 1 THRU 4 (1601BF).
TRI-STYLE INSTALLATION: regular arm, parallel arm or top jamb from standard carton.
NON-HANDED: can be installed on either left or right hand doors.
ADJUSTABLE BACK CHECK: Suffix "BC" to catalog number. Example: 1604BC.
LOW PROFILE ARM: non hold-open arm only.
OPTIONAL ARMS: Parallel Rigid, CloserPLus, Unitrol.