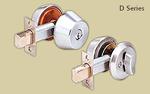 General
Information
?
The D60
Series is designed and manufactured for security, strength, versatility and to
meet the requirements of grade 1 hardware.
This lock
meets the demand for residential and commercial applications where a 1 inch
solid steel deadbolt, solid one piece housing, heavy duty security strike and
double through bolting are required.
Arrow
tubular D series models
Arrow D61 lock – Key outside, thumb turn on inside?
Arrow D62 lock – Key on both inside and outside
?