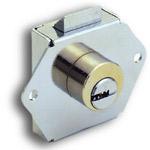 Mul-T-Lock Drawer Latch Lock for safety and security of drawers and small cabinets. It has 45 smooth rotation by operating key. Advanced 'Slam locking' type mechanism and two sizes of latch options are easily available. Consist of body and plug made of strong Brass metal and hard steel lock case Latch. Advanced
Mul-T-Lock unique high precision
cylinder mechanism up to 10 telescopic pin tumbler
system. Pick and drill resistant for
high security needs.