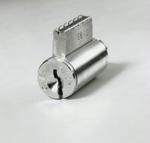 General Information
Medeco Key-In-Knob cylinders are designed to retrofit knob type cylindrical locksets, lever type cylindrical locksets, padlocks and bored type auxiliary deadlatches and deadlocks. 20 series, Key-in-knob cylinders are UL437 listed for drill and pick resistance, and those that incorporate the Medeco3 design, offer utility patented key control.
Features
Over 100 different cylinder designs and tailpiece configurations enable Medeco to offer the largest retrofit capability in the industry. More retrofit cylinders means fewer replacements of the complete lockset.
Lock cylinder packages, that contain one cylinder and a variety a tailpieces, provides greater retrofit capability, while at the same time, reduce the amount of inventory required.
Utility patented key control, (for cylinders that incorporate the Biaxial design), provides protection against the unauthorized duplication of keys.
A special elevating and rotating pin tumbler design, along with false slots on the bottom pins, mushroom top pins and a sidebar mechanism, work together, to provide superior pick resistance.
Angled cuts on the keys, along with fore and aft positioning, and the reciprocal slider of the Medeco3 design, provide added dimensions that dramatically increases key combinations and enables Medeco to produce some of the largest master key systems in the industry.
Hardened steel inserts, positioned in critical areas of the cylinder, provide a high degree of drill resistance.
Solid brass construction provides high quality and long cylinder life.
8 different finishes provide an extremely close color match with existing hardware.
UL437 listing provides assurance that cylinders meet universal standards for drill and pick resistance and resistance against other types of forced attack.