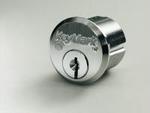 General Information
Medeco mortise cylinders have threads on the outside of the shell and are designed to be screwed into other manufacturer\'s mortise lock cases. A cam on the back of the cylinder operates the lock mechanism and a set screw holds the mortise cylinder in place. Medeco rim cylinders are used with auxiliary rim locks such as: surface mounted deadbolts, night latches, panic devices and jimmyproof locks (also know as vertical dropbolts or interlocking deadbolts).
Rim cylinders are held in place with a back plate and two mounting screws.
10 series, rim and mortise cylinders, are UL437 listed for drill and pick resistance, and the those that incorporate the Biaxial design, offer utility patented key control.
Features
Large variety of cylinder lengths and cam/tailpiece configurations provide excellent retrofit capability and reduce the need to replace the entire locking device.
Utility patented key control, (for cylinders that incorporate the Medeco3 design), provides protection against the unauthorized duplication of keys.
A special elevating and rotating pin tumbler design, along with false slots on the bottom pins, mushroom top pins and a sidebar mechanism, work together, to provide superior pick resistance.
Angled cuts on the keys, along with fore and aft positioning, and the reciprocal slider of the Medeco3 design, provide added dimensions that dramatically increases key combinations and enables Medeco to produce some of the largest master key systems in the industry.
Hardened steel inserts, positioned in critical areas of the cylinder, provide a high degree of drill resistance.
Solid brass construction provides high quality and long cylinder life.
8 different finishes provide an extremely close color match with existing hardware.
UL-437 listing provides assurance that cylinders meet universal standards for drill and pick resistance and resistance against other types of forced attack.
Set screw pin chamber caps allow quick and easy pinning and re-keying without the need to take the cylinder apart.