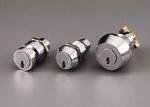 General Information

Medeco can custom fit a lock for your specific application. Medeco locks are commonly used in carwash\'s, laundry\'s and other currency applications. Medeco locks feature hardened steel inserts that protect against drilling and other vandal attacks on the cylinder. In addition to excellent protection against physical attack, they feature patented key control and pin tumblers that must elevate, rotate, and align perfectly with the cylinder\'s sidebar, giving you double protection against picking.
All Medeco key control programs are based on unique Biaxial cylinder and key technologies, which are protected by patent, trademark, and copyright laws. Keys may only be duplicated by Medeco or an authorized Medeco service center, and only at your request.
Medeco locks are designed to easily retrofit most manufacturers\' cam locks and to change out Medeco cam locks by just replacing the core. This simple installation allows you to easily change out your locks in less time.
Medeco locks are available in a variety of lengths, dimensions and can be custom fit for a variety of applications. With Research and development, as well as a tool room on site, rapid prototyping is available at your request.
Medeco locks are available in a removable core version as well as the standard locking device. The removable core allows you to swap out core in a matter of seconds, providing an entirely new key combination. This process is useful for when a key is lost or stolen and you need to change your locks quickly.