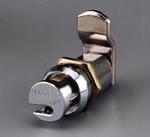 General Information & Feautres
Medeco DuraCam II removable core cam locks offer security solutions to challenges that are unique to casinos and the gaming industry.
The DuraCam II allows you to make a quick combination change in case a key is lost. Simply remove the core and replace it with a new one, providing a whole new combination. A DuraCam II core can be replaced in a matter of seconds therefore reducing machine downtime due to lock replacement. Along with the removable core feature the DuraCam II comes with one of the strongest keys available, designed to prevent breakage.
Features and Benefits:
Rapid core replacement saves time and money related to lock replacement.
Thicker key helps prevent key breakage.
Keys come with a lifetime warranty against breakage.
Horizontal keyway will minimize machine downtime due to key breakage.
Patented key control provides protection from unauthorized duplication of keys.