The Kikset Kevo Door Lock is a revolutionary Bluetooth device that makes life easier, and more secure. The technology allows you to open your door with just a touch. The Bluetooth signal from your Kevo fob or smartphone app will do the rest!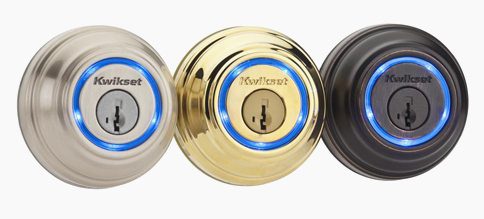 Open Your Door with Ease
No more fumbling around for keys – with Kevo locks you can open your door with ease. The deadbolt system comes with a fob, which allows the holder to access the building with just a touch. You also receive two sets of normal keys for the lock.
Introducing The Kevo App
Smartphone devices can also be used as Kevo fobs by simply downloading the app. Once installed and an account created, your smartphone will function as your key, and open your door with a touch of your finger. Kevo is also compatible with the Nest app, which automatically sets the temperature in your home when you leave or return.
The E-Key Experience
The Kevo app gives you full control over the security of your home. You can setup and send E-Keys to friends and family to give them full, scheduled, or one-time access to your property. Once done, you can disable and delete E-keys to take back full control.
The Kwikset Kevo Bluetooth Door Lock is a safe and secure way to lock your home, while providing advanced yet simple unlocking for yourself, friends and family. Get yours today, and own a lock of tomorrow!
Kevo installation in New York City
Mr. Locks is a leading company for locksmith and security solutions in NYC that helps people to get deadbolts and locks installation regularly. Whether you're in Brooklyn, Queens, Manhattan, Bronx or anywhere else in the city, we can help you with all your locksmith needs.
Call us today at 212-780-0144 for a free estimate.