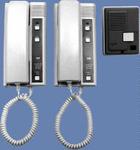 General
Information
Three station wired intercom system can be used as an intercom and
doorphone. Perfectly suited for
home, office, or apartment. Comes complete with two indoor room
stations, one door remote station, 100 ft. 6-conductor cable, 50 ft.
2-conductor cable, and power supply. Easily mounts to wall with included
bracket. Features include multiple call signals, in-use LED on room stations, power LED on door station, door release button for optional
electric door release
8-1/2″ (H) X 4″ (W) X 3″ (D).