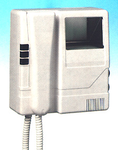 General Information
Coaxial Type Apt. Video Monitor Station. White Color. Surface mounts right on wall surface over steel backplate assembly. Can be optionally desk mounted.
The Alpha Communications/Elvox 5601/000 apartment house series monitors are designed to meet virtually any requirement for low-rise and high-rise apartment video-intercom security. These attractive monitors surface mount right onto the wall, by means of a steel backplate (supplied) or over an optional flush steel backbox with plaster ring (IH358 with IH357). All 5601/000 monitors feature a crystal clear 4.50″ (114.3mm) black and white monitor (measured diagonally), electronic tone signaling, heavy duty coiled cord, momentary door release button, monitor activation button, contrast control and amplified handset with electret microphone, providing simultaneous Talk and Listen functions. When combined with our vandal-resistant lobby entry stations and model 6680 amplifier (and related accessories), the 5601/000 monitors are part of a complete building security system.
FEATURES
4.50″ (diagonal) Crystal Clear Black & White video screen
Convenient Duplex Voice Operation
Easy Surface Wall Installation using Steel Wall Plate
Quick Wall Plate Connect/Disconnect
Clear Voice Fidelity using Amplified Handset
Rugged and Reliable. Simple to Operate
Pleasant Electronic Call Tone Signal from Entrance Panel(s)
Low profile flush monitor protrudes only 3.50″ from wall
Monitors may activated with built-in Monitor Button
Works with a Variety of Aluminum and Stainless Steel Lobby Entry Panels
SPECIFICATIONS
Dimensions: All 5601/000 monitors are 8.75″W (222mm) x 8.00″H (203mm) x 3.50″D (89mm).
All dimensions shown are outside dimensions, less the coiled cord.
Handset: Duplex Handset with Electret Microphone and heavy duty coiled cord.
Finish: High Impact ABS Plastic, Soft White color with Black Imprinting.
Controls: Door Release Button, Monitor Button, Contrast/Brightness Control, 2 auxiliary switches.
Video Tube: 4.50″ (114.3mm) High Brightness Black and White Tube (measured diagonally).
Options: Model IH358 flush double gang electrical box, used with model IH357 flush mount plaster ring.
ARCHITECTS\' AND ENGINEERS\' SPECIFICATIONSThe apartment monitor station shall be Alpha Communications/Elvoxў model 5601/000. Monitor shall be surface mounted (over a model IH358 backbox with IH357 mounting ring). Monitor shall include a high quality 4.50″ (114.3mm) (measured diagonally). Monitor handset shall feature duplex communication and electret microphone for exceptional voice fidelity. Handset shall include a heavy duty coiled cord. Monitor shall include a door release button, monitor on button, contrast/brightness control switch, two (2) auxiliary switches and steel backplate connector (model # 1/550). Monitor shall be constructed of high impact ABS plastic in a soft white color with black imprint. Monitor shall feature electronic call tone signaling from lobby entrance station(s). Monitor can be desk mounted using optional model 5610 desk adaptor.
REQUIRED COMPONENTS:
6680 Amplifier/Power Supply (1 per system), which installs in a separate central equip- ment location. Requires 120VAC primary power.
5556/004 4-Port Video Distributor. 1 required for each 4 video risers/lines if there will be more than 1 video riser/line. Each video riser/line requires an RC013 end-of-line resistor.
RC013 75-ohm End-Of-Line Resistor. 1 required for each video riser/line.
DO-001 (or equivalent) 16VAC Door Release.
Lobby Entry Panel (1 per building entry).
OPTIONAL COMPONENTS:
6590/001 2-Entrance Adaptor (1-Audio/1-Video). Used when switching between a video and an audio entry panel are required. Used in addition to 6680 power supply.
——OR——
6591/001 2-Entrance Adaptor (Both-Video). Used when switching between two (2) video entry panels are required. Used in addition to 6680 power supply.
170/560 Camera Switching Relay. Used when switching to a second (separate) CCTV camera is required from each video monitor. Used in addition to 6680 power supply.
5610 Monitor Desk Adaptor. Used when the monitor needs to be desk mounted.
PK407A Specialty Relay Adaptor. Used when connecting a door opener other than a 16VAC type to system. One (1) required for each building entry door opener.
WIRING REQUIREMENTS:Apartment riser wiring shall be 4-common #22AWG, 3-common #18AWG, 1-RG59/U (all copperminimum 95% braid) coaxial cable common and 1 selective wire #22AWG, for each video monitor station connected to the riser cable. Add 1-common #18AWG when using the model 170/560 camera switching relay option.