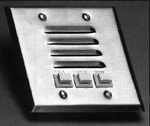 General Information
Stainless Steel 4-Wire Apt. Station. Flush mounts on 2-gang electrical box. Features Plastic Push buttons. Supplied with standard oval head machine screws.
The IR207B apartment stations are designed specifically to flush (or surface) mount over a 2-gang electrical back box. IR207B\'s feature the solid professional look of satin brushed stainless steel. These versatile stations may be used in large or small buildings. A wide variety of optional accessories is available to provide additional functions such as multi-entrance operation, post office door release, and magnetic (fail safe type) door release capabilities.
FEATURES
Simple push button operation
Rugged Satin Stainless Steel Faceplate
Easy installation
Automatic privacy
Mounts (flush or surface) over a standard 2-gang electrical back box
SPECIFICATIONS
Dimensions: Height: 4.50″ (115mm)
Width: 4.50″ (115mm)
Depth: 1.50″ (38mm) (When Flush Mounted)
Projects: 0.50″ (13mm) from mounting surface
Construction Rugged, brushed finish satin stainless steel faceplate.
Controls: Individually replaceable push-buttons with self-wiping plated contacts. Identified for TALK, LISTEN and DOOR functions.
Speaker/Mic: 3.50″ (89mm) x 2.25″ (57mm) oval type with voice response. Also used for electronic tone signal.
Mounting: Designed to mount (flush or surface) on a 2-gang electrical back box. Supplied with four (4) 6/32 mounting screws.
ARCHITECTS\' AND ENGINEERS\' SPECIFICATIONS
Apartment stations shall be Alpha Communications/Tektone model IR207B or approved equal. Station shall (surface or flush) mount over a 2-gang electrical back box. Momentary action push- buttons shall be provided for TALK, LISTEN, and DOOR operations. The speaker/microphone shall be a 3.5″ x 2.25″ (oval) high-sensitivity type with voice-frequency response. Screw terminal connections shall be provided for positive wiring termination.
REQUIRED COMPONENTS:
PK543 Amplifier (1 per system)DO-001 (or equivalent) Door ReleaseSS102A or SS105B 16VAC Transformer (for PK543)Lobby Entry Panel (1 per building entry)S1 Screwdriver (if required for lobby panel)OPTIONAL COMPONENTS:
PK502B Multi-Entrance Relay Adaptor (use 1 for each additional entry panel after 1st panel–maximum of 8 entrances). No additional transformer needed.
PK407A Specialty Relay Adaptor. Used when connecting a door opener other than a 16VAC type to system. One (1) required for each building entry door opener.
WIRING REQUIREMENTS:
Apartment riser wiring shall be 3-common #22AWG and 1 selective wire #22AWG, for each station connected to the riser cable. Add 1-#22AWG common if 2nd tone signal will be used with optional apartment pushbuttons, to signal apartments when visitor is at apartment door.