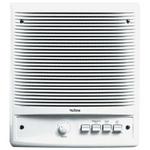 General
Information
Nutone\'s IM-4406 Intercom System is a voice and music intercom system with AM/FM
tuner and CD player. The IM-4406 master station is normally installed in a high
traffic area and up to 9 remote stations and 3 door stations can be added. The
intercom system features "hands free" answering at all stations,
one-button talk/listen: push to speak, release to hear reply. Music from the CD
player or radio is muted during intercom calls.
To communicate from a sub station, simply press the talk button and a general page
is done over the system. The person you are attempting to communicate with
presses the talk button and two-way hands-free communication is initiated. Door
answering can be done from the master station and any sub station.
Monitoring or "listening-in" feature for checking on the baby or a
family member confined to a bed.An optional chime
module can be added to generate a ring tone on each sub station when a doorbell
button is pressed. A wireless radio remote can also be added to control the
master station\'s digitally tuned AM/FM radio.
The 4406 master station is designed to be installed and operated with ease. The
master station has a clean look with a white or biscuit finish. The Master
station can be used to initiate and receive communication from specific sub
stations. The built-in digitally tuneable AM/FM radio
with 20 watts of power has a 12-station memory and LCD display. The radio can
be heard at each sub station (not heard at the door stations).
Up to 9 sub stations can be located throughout the house, each wiring directly
back to the 4406. From the sub stations the radio can be controlled, the volume
level of the radio can be adjusted per sub station, each sub station can
initiate a general page throughout the system, and each sub station can answer
or communicate with any door station too. Up to 3 door stations can be
installed.
The sub stations wire back to the IM-4406 master station using a 6-conductor
twisted pair wire. The door stations connect using a 2-conductor wire. Each
station must be run on a dedicated (home-run) wire.
Features
Voice Music Intercom System
with AM/FM tuner and CD player
Up to 9 remote stations and 3
door stations
Control CD/radio on/off, CD
track selection, and radio memory from any remote station.
12 radio station memory,
powerful 20 watt amplifier
Never miss a beat – CD pauses
when intercom or chime is used.
One-button talk/listen: push to
speak, release to hear reply
Monitor (listen-in) baby\'s room
or bed confined family member.