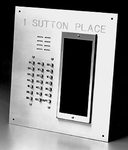 General Information
Vandal-Resistant Panel. Brushed Stainless Steel finish with solid metal pushbuttons and metal speaker grille. Can be made in flush or surface type and in custom sizes.
The Alpha Communications VI402 V.I.P series Stainless Steel (Vandal-Resistant) lobby panels are rugged, good-looking panels for indoor or outdoor use. Made of heavy 16 gauge high-carbon stainless steel, the VI402 series is made to take abuse. VI402 panels are all custom-made to your exact size and layout specifications and are available in flush or surface mount styles. Flush VI402 panels can be made completely flat, with a slight bevel on the edges or a 1/2″ returned edge (please specify when ordering). Other options for the VI402 series include postal release switch (PO402I) built-in, built-in or separate matching stainless steel alphabetical directories, built-in CCD camera (CCDCAM-I), and a host of optional speaker/microphone and handset options. All VI402 panels feature solid metal push-buttons, engraved apt. markings (right onto the face of the panel), and building name/number engraving at the top of the panel (where space allows). The use of Star Head screws makes it nearly impossible to tamper with the panel or directory without the use of the special screwdriver tool.
FEATURES
Heavy 16 Gauge High-Carbon Stainless Steel Faceplate
Solid Extruded Aluminum Push-button Plungers with Permanent Engravings
Names are Protected by a Thick, Clear Polycarbonate Window
Rugged and Good-Looking, Vandal-resistant
Wide Variety of Speaker/Microphone Components Available
Works with a Variety of Apartment Intercom and Video-Intercom Systems
Built-in Alphabetical Directories
Panels can be made Flush or Surface Mount
Tamper-Resistant \'Star\' Head Screws Used
SPECIFICATIONS
Dimensions: Depends upon individual panel configuration.
Construction: Heavy 16 Gauge High-Carbon Stainless Steel Faceplate with Polycarbonate Directory Window.
Tool Required: \'Star\' Head screwdriver tip required for panel installation/removal and directory name insertion and maintenance, included with each VI402 V.I.P. panel ordered.
ARCHITECTS\' AND ENGINEERS\' SPECIFICATIONS
The entry panel unit(s) shall be Alpha Communications VI402 V.I.P. series, or approved equal. Panel(s) shall be (flush/surface) mount type. Panel(s) shall include the proper speaker components to match the apt. intercom stations. Panel(s) shall have (built-in/separate/no) directory units. Where supplied, directory unit(s) shall be made of heavy-gauge brushed stainless steel, with the name strips protected by a sheet of clear Polycarbonate. Name insertion and maintenance shall require the use of a Star Head type screwdriver tool. Contractor shall provide two (2) model SD1 screwdrivers (per building), to the building management (or superintendent), for future directory name maintenance. Panel(s) shall have solid-metal pushbuttons, permanently engraved (and filled) apt. markings and mesh speaker grille to protect the speaker components. Panel shall be made of a single sheet of 16 gauge high-carbon stainless steel.
REQUIRED COMPONENTS:
Depends upon panel configuration(s). Flush Panels can be supplied with, or without a matching flush backbox/housing. Contact our sales department for more information.
WIRING REQUIREMENTS:
Depends upon apartment stations and amplifier being used.