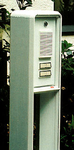 General Information
Outdoor Free-Standing Pedestals in White or other optional colors. Available with or without built-in CCD camera or a variety of optional components. Weather-resistant.
The Alpha Communications/S.T.R. TTS (and TTSV) series free-standing pedestals are made of rugged extruded aluminum and are suited for indoor or direct outdoor applications. Standard finish is painted White. Dark Brown Anodized Aluminum. Natural Aluminum, Black or other custom colors are also available at extra cost. All TTS pedestals feature oversized, gold-plated, self-wiping, illuminated call buttons, European styling, mylar loudspeaker and electret condenser microphone for exceptional voice fidelity.Pedestal access is available only by unlocking the built-in lock, with the keys supplied. TTSV series pedestals are supplied with a built-in CCD camera and infrared illuminators, for viewing visitors, even in total darkness. These attractive but rugged pedestals can be made with or without the built-in camera and up to 12 call buttons. They come with a built-in mounting flange, which enables the pedestals to be mounted directly to a concrete (or similar) mounting surface.
FEATURES
Rugged Extruded Aluminum Construction
Easy Installation (Bolts to Concrete Floor)
Can be used indoors or directly outdoors
Clear Voice Fidelity
Large, Illuminated Gold-Plated Call Buttons
Access secured by built-in Lock
Available with 0-12 Call Buttons
Available in a Wide Variety of Colors and Options
Optional CCD Camera with Infrared Illuminators
SPECIFICATIONS
Dimensions: Depends upon pedestal configuration.
Receiver: 70mm round mylar, 45 ohm or 16 ohm, depending upon pedestal type/configuration.
Microphone: Electret Condenser type.
Pushbuttons: Individually replaceable SPST momentary type, with gold-plated self-wiping contacts. Comes standard with bulbs for illumination.
ARCHITECTS\' AND ENGINEERS\' SPECIFICATIONS
The entry pedestal shall be Alpha Communications/S.T.R. TT or TTM/TBM series. Pedestal shall contain (0-12) push-buttons. and shall be mounted (flush or surface). Pedestal shall contain a mylar cone loudspeaker and electret condenser microphone (or other optional speaker components) for exceptional voice fidelity. Pedestal color shall be painted White (standard) (or optional Brown, Natural Aluminum, Black or other custom, extra-cost finish). Pedestal shall contain large, illuminated momentary call buttons with self-wiping gold-plated contacts. Pedestal shall be suitable for indoor or direct outdoor use. Buttons shall allow for easy name insertion by the use of snap-on/off polycarbonate button covers.
WIRING REQUIREMENTS:
Depends upon apartment stations and amplifier being used.