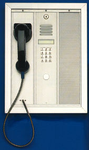 General Information
A fully modular telephone entry intercom system for 1 to 1,000 apartments (suites). Available with No-Phone-Line option. Can be supplied with/without privacy handset.
The TE905A series Tek-Entry IIIў telephone entry intercom is a modular style entry panel, and can be used with 1 to 1,000 remote apartment telephone locations. Modular alphabetical directory modules make finding the tenant\'s 4-digit code very easy, even in larger buildings. By entering a simple 4 digit code, the system calls the correct phone number, to allow access. The called party\'s phone number remains secret. Programming and re-programming are push button simple, and are done right at the keypad. Directory strips can easily be inserted into the model #AM190D (60-name capacity) directory modules using optional engraved plastic directory strips (model #TDS) and fill-in directory blanks (model #TDS-B). Flush TE905A panels require an OF190 series frame, with the OH190 series flush housing. Surface panels require an OF190S series surface frame only, and do not require a back box.
FEATURES
Can be used with either Rotary or Touch-Tone service
Memory retention during power failure (EEPROM)
Crystal decoder guarantees correct touch-tone decoding
Toll restrictor
Front panel or remote programming
Tamper-resistant programming security
Aluminum construction resists vandalism
Instant remote system checking
Selectable 1 – 9 minute talk time
Secondary relay standard for controlling a secondary device
Flush and Surface Models Available
Modular Construction allows use in almost any size building
NO-PHONE-LINE (OPTION) FEATURES
No monthly line rental or message unit fees.
Provides intercom for tenants that do not have outside telephone line service
Distinctive double ring differentiates between visitor calls and incoming calls
Connection for guard or concierge phone
Multiple entrance capability
Only two wires to interface with lobby equipment
Built-in call-waiting feature
DOC and FCC approved
SPECIFICATIONS
Dimensions: Height: 19.00″ (483mm)
Width: Depends upon number of modules wide. (See frame/housing chart # IL312).
Depth: 4.00″ (102mm) (Flush Housings)
Projects: 2.25″ (58mm) (Surface Mount Frames–not including handset).0.88″ (22mm) (Flush Mount Frames–not including handset).
Construction: Anodized extruded aluminum panel/faceplate.
Housings: OH190 series, for flush style OF190 frames only.
ARCHITECTS\' AND ENGINEERS\' SPECIFICATIONS
Telephone Entry system shall be Alpha Communications/Tektone TE905A Tek-Entry III series or approved equal. The system shall operate on standard dedicated telephone lines, unless the No-Phone-Line options are used. All TE905A units shall include integral power supply, panel-mounted PC board, metal telephone touch pad, busy and door-open indication, postal release option, and armored cord handset with a special hook switch, or speaker/microphone panel module. The TE905A system shall allow for 1 to 1,000 apartment capacity. The TE905A system shall provide a relay output for controlling door, gate, elevator, etc., and shall be able to dial out on either rotary or touch-tone service. It shall also provide built-in capability for multiple entrances, and it shall be possible to program the system remotely, or at the unit itself.Construction shall be of extruded, anodized aluminum, modular style panels. Contractor shall provide the proper number of AM190D alphabetical directory modules, depending upon the number of apartments served. Directory modules shall be protected by a clear sheet of polycarbonate plastic. The panels shall be provided with the appropriate OF190 (Flush) or OF190S (Surface) panel frame. Flush panels shall be supplied with the appropriate (OH190 series) flush back box. Contractor shall provide a model S1 screwdriver, to the building management, for any future directory name replacement or maintenance required.—–ADD FOR NO-PHONE-LINE OPTION—–For No-Phone-Line service capability, contractor shall include all of the required components of a standard TE905A system, plus a PM900 No-Phone-Line controller, one or more IH996 relay board cabinets, RY912 relay boards and the CT912 relay board connector assemblies. All equipment shall be located in the telephone equipment room, adjacent to the RJ71C jacks, installed by the local phone company.
REQUIRED COMPONENTS:
S1 Screwdriver (for installation/maintenance).
TE905A Master Control Module for 1 to 1,000 remote stations. Includes speaker/microphone.
SS106 transformer for power and minimum 2-gang panel frame.
OF190S Series Surface Panel Frame. Available up to 11 modules.
——OR——
OF190 Series Flush Panel Frame. Available up to 11 modules
—–AND—–
OH190 Series Flush Housing–not required for surface panels.
SS106 16VAC transformer. One (1) required to power the TE905A and one (1) required to power the 16VAC electric door opener (if used). One (1) additional SS106 is required when using the PM900 "No-Phone-Line" optional controller. One (1) additional SS106 is required when using the PK124 battery charge, for battery back-up capabilities.
OPTIONAL COMPONENTS:
PK124 Battery Charger. One (1) required if system battery back-up is required. Requires SS106 transformer for power and two (2) BA001 batteries.
BA001 12VDC Battery. Two (2) required when using the PK124 battery charger unit.
TA900 Privacy handset module. Used on TE905A panels when open-voice is not wanted. Adds one (1) module (in width) to panel size. The TA900 is a factory-wired option only and cannot be installed in the field. It must be ordered at the same time as the master.
OPTIONAL "No-Phone Line" COMPONENTS:
PM900 No-Phone-Line Control Unit. One (1) required per system, for No-Phone-Line option. Requires one (1)SS106 transformer for power.
IH996 Relay Board Cabinet (surface mount). Each IH996 can hold up to (8) RY912 relay boards.
RY912 No-Phone-Line Relay Board. One (1) required for each 12 remote apartment stations. Each RY912 requires a CT912 connector assembly.
CT912 Connector Assembly. One (1) required for each RY912 relay board.
WT2833NL "Dummy Telephone". Used on No-Phone-Line systems to allow tenants who do not have outside phone lines to answer the lobby intercom call, and release the electric door opener. Plugs into existing apartment phone jack. Has built-in flashing red neon lamp, for the hearing-impaired.NOTE: The "No-Phone-Line" option requires that the contractor have the local phone company install one (1) RJ71C type interface jack, for each 12 (or less) remote apartment stations.