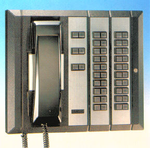 General Information
2-Wire Switchboard Intercom using remote handset type stations. Ideal for apartment houses, bowling alleys, elevators, motels, supermarkets and other applications.
The Alpha Communications /Elvox 142 series intercom system is an internal intercom switchboard system that can be used in Luxury Apartment Buildings, Dormitories, Health Care Facilities, Hotels, Motels, Schools, Offices, Bowling Alleys and Supermarkets. The 142 series is an advanced system, with individual lamp annunciation, conversation privacy, and large remote handset capacity. Models above 60 stations incorporate a \'station multiplier\' feature that allows the amount of station selector switches to be reduced by half. This feature greatly reduces the overall size of the master station, for larger systems. Up to 120 (or more) remote handsets can be used and all handsets can call to the switchboard (or be called from the switchboard), with full communication privacy. Model 870W and model 902 handsets are two-tone White/Black and model HT2009/2WH is All-White. All handset models easily mount right on the wall or over a single gang flush electrical back box. All handset models can also be mounted over our optional AP001 or AP777 adaptor plates, when installing the handsets over an existing oversized flush intercom back box.
FEATURES
Individual Lamp Annunciation (Call-Down)
Easy 2-Wire Intercom Hookup to Remotes (1-common)
Convenient Duplex Voice Operation
Private Conversation to Concierge Station
Up to 120+ Remote Handsets on one system
Choice of Three (3) Handset Models Available
Electronic Call Down Signal
SPECIFICATIONS/DIMENSIONS
142 MASTER: Size Depends upon number of indicator lamps (contact our sales dept. for more information). See Apartment Intercom Stations category for more information on the handsets shown herein.
836/030: Height: 4.55″ (116mm)
Width: 5.55″ (141mm)
Depth: 2.60″ (67mm)
870W: Height: 8.75″ (223mm) Less Coiled Cord
Width: 2.50″ (64mm)
Projects: 2.25″ (58mm) from mounting surface
902: Height: 8.75″ (223mm) Less Coiled Cord
Width: 3.55″ (91mm)
Projects: 2.75″ (70mm) from mounting surface
HT2009/2WH: Height: 8.50″ (216mm) Less Coiled Cord
Width: 3.20″ (82mm)
Projects: 2.38″ (61mm) from mounting surface
ARCHITECTS\' AND ENGINEERS\' SPECIFICATIONS
The intercom system shall be Alpha Communications /Elvox 142 series, or approved equal. At the master location contractor shall furnish and install one model 142/xxx (xxx=number of lamps in multiples of 10 up to 60 stations or multiples of 20 for larger masters) switchboard station. Master station shall have built-in system amplifier, lamp annunciators, call-down signal, momentary call-up push-button, and privacy handset. All selector switches shall be supplied with (AN-001) custom annunciator markings, protected by plastic lens caps. At each remote location, contractor shall furnish and install one model HT2009/2WH white handset (or model 870W or model 902). Wiring to remote handsets shall be #22AWG (up to 2,000 feet) with 1-common and 1-selective wire per remote handset location. Contractor shall furnish and install one (1) model 836/030 power supply. Contractor shall observe all local and national electrical codes and shall wire as per manufacturer.
REQUIRED COMPONENTS:
142/xxx MASTER STATION. Use 1 per system. Black Color ABS plastic. Can be flush, surface or desk mounted. (Note: xxx=number of lamp indicators).
836/030 POWER SUPPLY. One (1) required per system. Operates off of standard 120VAC primary power.
AN-001 CUSTOM LENS MARKINGS. One (1) required for each indicator lamp on the 142 master switchboard unit.
HT2009/2WH REMOTE HANDSETS. One (1) required per apt. All-White Color ABS plastic. Surface Mounts. May require the AP001 or AP777 series (or other type) adaptor plates.
—–OR—–
870W REMOTE HANDSETS. White/Black Color
—–OR—–
902 REMOTE HANDSETS. White/Black Color
WIRING REQUIREMENTS:
Apartment riser wiring shall be 1-common and 1-selective wire #22AWG (up to 2,000 feet), for all handset stations connected to the riser cable, back to the master 142 switchboard location.