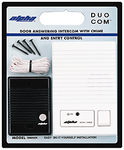 General Information
Duo-Com Master Station. Has built-in door chime and voice amplifier. Has momentary door release pushbutton. Surface mounts. Operates on batteries or 6VDC adaptor.
The Alpha Communications Duo-Com series intercom system is our lowest cost master/remote intercom for door entry or any other application requiring a single master and a remote intercom station. The SM202 master station has a built-in amplifier and electronic door chime. It can easily mount right on the surface of the wall (over a single gang electrical \'gem\' box). A built-in momentary door release button allows hook-up to your own low-voltage door opener (depending upon trans-former used). The optional PK407A door opener relay allows connection to magnetic door locks or other \'fail-safe\' type door openers. The SM202 is designed to be used with the OR202 remote station, but a wide variety of remote stations is available in ABS plastic, extruded aluminum, stainless steel, polished brass and painted finishes. The SM202 is available in a packaged kit form, along with the OR202 remote and 10 meters of connecting cable. Ask for our model #SM202K Duo-Com kit.
FEATURES
Requires only 2-Wires for Intercom and Electronic Chime
Powers from 4- \'C\' Batteries or Optional DC Power Supply
Built-in Electronic Chime
Built-in Electric Door Release Pushbutton
Modern Styling
Master can mount over existing Door Chime Station
Wide Variety of Weather-Resistant Remotes
SPECIFICATIONS/DIMENSIONS
SM202: Height: 7.50″ (191mm)
Width: 5.13″ (131mm)
Projects: 1.63″ (42mm) from surface of wall
OR202: Height: 4.75″ (121mm)
Width: 3.50″ (89mm)
Projects: 1.25″ (32mm) from surface of wall
ARCHITECTS\' AND ENGINEERS\' SPECIFICATIONS
The intercom system shall be Alpha Communications Duo-Comў series, or approved equal. Master station (model SM202) shall be surface mount and shall include a built-in voice amplifier, electronic chime signal and momentary electric door release pushbutton. Master shall be powered by 4- \'C\' batteries (or optional SS6C DC power supply adaptor). Master station shall have intercom and chime volume controls and a Talk/Listen switch. The Listen circuit shall automatically time-out after approximately 20 seconds. Outdoor remote station shall be the model OR202, and shall surface mount right on the surface of the wall, or over a single gang electrical \'gem\' box.Contractor shall furnish and install a (compatible) electric door release, and related power supply, if required.Contractor shall observe all local and national electrical codes.
REQUIRED COMPONENTS:
SM202 MASTER STATION. One (1) maximum per system. Surface mounts right on wall. White ABS plastic finish. Powers off of 4- \'C\' batteries or optional SS6C DC power supply adaptor.
OR202 PLASTIC REMOTE. Black color. Surface mounts right on wall. With built-in CALL button. No housing required.
——OR——
—>>> Contact our sales dept. for other remotes available.
OPTIONAL COMPONENTS:
CP202SS Stainless Steel Cover plate to protect the OR202 outdoor remote station. Mounts over OR202 remote to provide protection against vandalism.
PK407A SPECIALTY RELAY ADAPTOR. Used when connecting a door opener other than a non-fail-safe type to system, such as a magnetic door opener.
SS6C 6VDC POWER SUPPLY ADAPTOR. Plugs into standard 120VAC outlet, and provides low-voltage power for SM202 intercom functions.
ELECTRIC DOOR OPENER. Must be low-voltage type. Powered by separate low- voltage transformer or power supply (compatible with door opener being used).
WIRING REQUIREMENTS:
Run a 2-conductor twisted pair #22AWG cable from the SM202 master to the OR202 remote station, up to 250 feet. For runs up to 1,000 feet, use a 2-conductor (shielded) #18AWG cable. Run a 2-conductor #18AWG cable from the SS6VDC power supply (if used) to the SM202 master up to 50 feet. Run a 2-conductor #18AWG cable from the SM202 master to the optional electric door opener, up to 50 feet. NOTE: the audio and door opener and transformer cables must be in separate jackets and not in the same cable jacket.