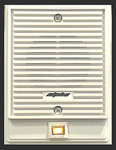 General Information
Outdoor Remote Station with Illuminated Call button. Woodgrain Plastic finish. Can Surface mount right on wall or over single gang electrical flush back box.
The Alpha Communications /Tektone OR604A and OR604AW series outdoor remotes are designed to fully surface mount on the finished wall surface. They can also be mounted over a single gang flush electrical \'gem\' box. No back box is required for surface wall mounting.The OR604A is finished in a Walnut woodgrain and black finish and the OR604AW is an all-White version. Both models feature a momentary, illuminated call button.The OR604A (and OR604AW) remotes are 4-wire type and are normally used only with the IR704B, IR704BD, PK724 and the \'EK\' series music-intercoms. FEATURES
Built-in Momentary Illuminated Call Button
RCan be Fully Surface Mounted without any Back Box
Modern Styling
Provided with Tamper-resistant Scrulox Mounting Screws
Choose from Woodgrain models or White (suffix W) models
Hands-Free Reply
SPECIFICATIONS/DIMENSIONS
Dimensions: Height: 5.25″ (134mm)
Width: 4.00″ (102mm)
Projects: 1.25″ (32mm) from surface of wall
ARCHITECTS\' AND ENGINEERS\' SPECIFICATIONS
The outdoor remote station(s) shall be Alpha Communications/Tektone OR604A/OR604AW or approved equal. Remote station shall be surface mount and shall include a mylar cone loudspeaker and built-in plastic momentary illuminated Call Button. Remote station shall be finished in a Woodgrain/Black finish (OR604A) or All-White finish (OR604AW). Remote shall be secured to the wall with tamper-resistant scrulox mounting screws. Contractor shall observe all local electrical codes.
REQUIRED COMPONENTS:
S1 Screwdriver (for system installation/maintenance).
BACK BOXES/HOUSINGS (Not Required for \'OR6\' Remotes)
WIRING REQUIREMENTS:
Depends upon intercom systems being used.