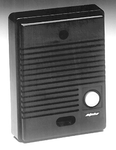 General Information
Outdoor Remote Station with Momentary Call button. Black Plastic finish. Can Surface mount right on wall or over single gang electrical flush back box.
The Alpha Communications OR202 outdoor remotes are designed to fully surface mount on the finished wall surface. They can also be mounted over a single gang flush electrical \'gem\' box. No back box is required for surface wall mounting. The OR202 is finished in Black plastic, to blend with almost any decor, and to minimize dirt and grime. They are designed to work with our SM202 Duo-Com intercom system. A maximum on two (2) OR202 remotes can be connected to a single SM202 master station.
FEATURES
Requires only 2-Wires for Intercom and Call
Black Plastic finish minimizes dirt and grime
Can be Fully Surface Mounted without any Back Box
Modern Styling
Built-in Momentary Call Button
Provided with Black Mounting Screws
SPECIFICATIONS/DIMENSIONS
Height: 5.25″ (134mm)
Width: 4.00″ (102mm)
Depth: 1.25″ (32mm) from surface of wall
ARCHITECTS\' AND ENGINEERS\' SPECIFICATIONS
The outdoor remote station(s) shall be Alpha Communications OR202 or approved equal. Remote station shall be surface mount and shall include a mylar cone loudspeaker and built-in plastic momentary Call Button. Remote station shall be finished in a Black plastic finish. Contractor shall observe all local and national electrical codes.
OPTIONAL COMPONENTS:
CP202SS Stainless Steel Cover plate to protect the OR202 outdoor remote station. Mounts over OR202 remote to provide protection against vandalism.