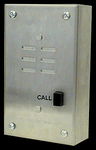 General Information
Indoor and Outdoor Remote Stations Tough 16 gauge Stainless Steel cover plates is designed to mount over our model OR202 plastic remote station, to resist vandalism.
The Alpha Communications CP202SS stainless steel cover plate is designed specifically to work with our popular OR202 remote station (from our SM202K Duo Com intercom kit). Made from 16 gauge high-carbon brush finish stainless steel, with solid metal push-button, these coverplates are built to last and to minimize vandalism and abuse.The CP202SS installs right over the existing OR202 remote station and is secured to the wall with vandal-resistant \'Star type\' head screws. (Requires model# \'8TORX\' screwdriver tool/tip*).*NOTE: The CP202SS is not provided with a \'Star type\' head screwdriver tip. This can be ordered separately, using our model# \'8TORX\'.
FEATURES
Simple Installation, mounts right on surface of wall
Made of Rugged 16 gauge High-Carbon Stainless Steel
Tamper and Vandal-Resistant
Solid Metal Call Button Assembly
Mounts right over our model OR202 Remote Station
Metal Mesh Speaker Grille
Installs with \'Star type\' tamper-resistant mounting screws (provided)*
SPECIFICATIONS/DIMENSIONS
Dimensions: 3.63″W (93mm) x 6.13″H (156mm) x 0.50″D (13mm) from surface of wall.
Construction: Solid 16 gauge high-carbon brush finish Stainless Steel faceplate.
Push Button: Solid Metal push-button assembly.
Mounting: Surface mounts (over existing OR202 remote).
ARCHITECTS\' AND ENGINEERS\' SPECIFICATIONS
The outdoor remote (OR202) shall be covered by an Alpha Communications model CP202SS cover plate, or approved equal. Cover plate shall be minimum 16 gauge high-carbon brush finish stainless steel. A single momentary action, solid-metal push-button assembly shall be provided for calling function. The speaker shall be protected by a fine mesh grille. The CP202SS cover plate shall be installed with \'Star type\' vandal-resistant screw fasteners, included with the station. Contractor shall supply a model \'8TORX\' screwdriver tool/tip to the building owner for future system maintenance. Unit shall surface mount right on the surface of the wall