Securing office doors is a number one priority for business owners. Offices house a lot of valuable equipment and sensitive company data, and can be at risk from break-in or false entry. It is also important to control employee access, and offices may require several levels of security.
There are many locks available for office doors. At Mr. Locks, we help you to choose the best locks, and our trained technicians install them with minimal disruption to your daily affairs. We explain the options available to you, and guide you to a well informed decision according to your needs and budget.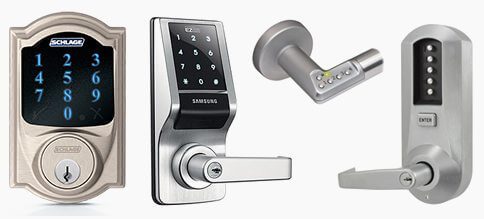 Choosing The Right Lock For Your Office
We recommend and install only top products from leading brand names for office door locks, including Schlage, Medeco, Mul T Lock, Baldwin, ASSA, Yale, Kwikset and other manufacturers. You can choose from electronic locks, traditional mechanical locks, or combination locks for office doors.
Mechanical Locks – These are the traditional kind of locks for office doors, and they can provide a decent level of security and simplicity. Types of mechanical locks include latch locks, deadbolts, mortise locks, and high security locks. They are designed to be opened with keys, which are issued to employees.
Electronic Office Locks – The more contemporary and popular solution, is electronic locks for office doors. They utilize digital means such as keyless locks with access cards or fobs, keypads with pin codes, or biometric devices. Electronic locks offer higher levels of security and flexibility of access and restriction.
Combination Locks – Some locks also utilize mechanical means of locking, with keyless electronic access. They are known as combination locks, and are a solid choice. We offer variety combination locks with pin code, proxy card reader, mechanical key operation, and optional remote control; for ultimate flexibility.
Mr. Locks have locking solutions for all types of office doors, including single and double, solid, sliding doors, aluminum, and glass doors.
Mr. Locks For Office Door Locks
Whether you need security locks for a single office, or for an entire office complex, mechanical locks or electronic keyless, Mr. Locks are here to help. We offer advice and installation of office door locks in New York City including Manhattan, Brooklyn, Queens, the Bronx and Staten Island.
Contact us today to find out more, or to arrange a consultation.