The kind of door locks you are using for your residence or office play an important role to play in determining the level of safety, security and convenience. Instead of carrying a keychain loaded with different keys, many people are opting for keypad locks, which come with a number of convenient benefits.
While previously the keyless locks were mostly in use in commercial establishments, these days, they have made their way into residential houses, which is why lock manufacturers like Schlage, Yale and Mul-t-Lock are making quite a profit for themselves.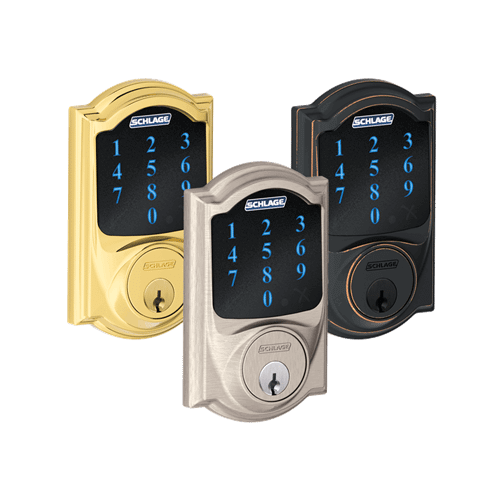 Let us now take a quick look at the various benefits the keypad locks have to offer:
Keyless entry and exit:
This is surely one of the most prominent advantages of using a keypad lock. They work just like an ATM machine, where you just need to punch in your secret code combination to lock or unlock the doors. One no longer needs to worry about misplacing their keys, since the security code can be shared by the homeowner with any number of people.
Enhanced Home Security:
The state of the art technology of the security locks makes it impossible for intruders to break into your home. Moreover, one can forget about their keys falling into the wrong hands. When you have a keypad lock at your home, anyone wishing to enter will need to know the security code.
Changeable entry codes:
In case you feel as though your security code is known by unauthorized people, you can always choose to change your code combination in a jiffy. In addition, if you are shifting or renting your property, you do not need to change the locks; all you need to do is notify your tenants of the access code.
More safety for your kids:
You no longer need to worry about your kid losing the house keys during a busy day at school. Your kid will never again be locked out of the house when coming home from school. When they know the security code, they can always unlock the door and once inside, the door will automatically lock itself.
Unique designs:
One can choose from a while range of electronic locks to suit their individual requirements, taste and everyday lifestyle. You can find a wide array of lock designs, ranging from the traditional to the futuristic and minimalistic ones. Moreover, the high tech designs of these locks make it much harder to copy than traditional options. A machine for duplicating this kind of locks has not yet been invented.
Easy to install:
Keypad lock installation in New York City is a matter of convenience. Any professional locksmith can easily install them within a very short span of time.
Durability:
The keypad locks come with a superior level of durability. Unlike traditional locks, they never get worn out or malfunction. The fact that these locks don't need to sustain the constant friction of turning and inserting keys makes it a much more durable option. When it comes to security, convenience and ease of use, nothing can beat the advantages that a keypad lock has to offer.