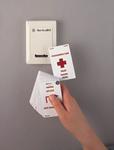 General Information
Radio Key 600e (RK600e) is a fully programmable, stand-alone access control system, that provides proximity entry for up to 600 users, using either a card or key tag.
Radio Key 600e is a compact, weather-resistant, surface mounted Access Control Unit, which is programmed with an inexpensive proximity card deck.
Secura Key patented DYNASCAN technology assures maximum performance in any environment.
The optional Auxiliary Reader (RKAR) can be used with Radio Key 600e to provide higher security. Entry cannot be obtained by tampering when the Auxiliary Reader is mounted outside. For further protection, both the Access Control Unit and Auxiliary Reader can be mounted behind glass or other non-metallic wall surfaces. When installed with the Auxiliary Reader, the Access Control Unit can be used as an exit reader and as an enrollment reader. Either unit easily mounts to a single-gang electrical box, masonry wall, post, or almost any surface — there are no bulky control panels to install.
To use Radio Key 600e, simply hold your proximity tag near the Access Control Unit or optional Auxiliary Reader (RKAR). Programming is easily accomplished by using an inexpensive proximity programming deck and then holding each proximity tag near the unit. The programming deck is also used to void tags, set the latch time and to select the active, inactive or unlocked modes.
The optional RKAT Audit Trail Module allows connection to a PC or serial printer. Software included provides reports on transaction history, allows programming of proximity tags user name database, and other reader settings. RK-LINKTM Software also allows RK600e memory to be backed up and restored.
Features
Low Priced Single-Door Proximity Entry System
Void/Valid Capability for up to 600 Proximity Tags or Cards
Programmed With an Inexpensive Proximity Card Deck
Optional Auxiliary Reader for High-Security/Extreme Weather Conditions
High Security – Entry Cannot Be Obtained by Tampering With Auxiliary Reader
Up to 6″ Reading Distance
Connect a PC or Serial Printer with Optional Audit Trail Module
Optional Auxiliary Reader for High-Security/Extreme Weather Conditions
Password Protected Programming
Patented Dynascan Technology
Technical data
Physical
Depth: 0.84″ (2.13 cm)
Width: 3.20″ (8.12 cm)
Height: 4.50″ (11.43 cm)
Weight: 5.0 oz (141.75 gm)
Material: Lexan
Color: Beige
Operational
Reading Distance: Molded Card up to 6″ (15.24 cm); Key Tag and ISO Card: Up to 5″ (12.70 cm)
User Capacity: 600 Key Tags (random numbered only) or PINs (User number plus 4 digit PIN)
Card/Key Tag Operation: Passive
Transmit Frequency: 125 kHz
Memory: Non-volatile
Latch/Alarm Shunt Timer: Programmable from .25 – 30 seconds
Auxiliary Reader Cable: 30 (10m) max. from Control Unit to Auxiliary Reader 2 conductor, non-twisted, non-shielded and 4 conductor, shielded