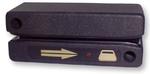 General Information
The NR-5 and NR-5-KP are compact, low profile card readers that may be mounted vertically or horizontally, and easily fit on most door units. NR-5-KP has the same features as the NR-5 as well as a built-in matrix style keypad. The keypad is for card and pin applications with the N-1000 family of control panels.
The NR-5 has a lower profile and smaller footprint (length) than the NR-1-WR reader. The lower profile allows slot punch style cards to pass through, as well as causing less abrasion to the card\'s magnetic stripe.
Features
The magnetic stripe card readers are designed to operate in all environments.
All electronics and wiring are completely sealed from outdoor elements.
The aesthetic appearance allows for installation inside an office building.
Operating temperature is -30 to 55C.
LED operation is not affected by card format.