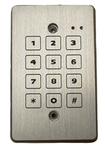 General Information & Features
Secura Key's new line of stand-alone keypads provide convenient and reliable access control for up to 200 users.
Four- to eight-digit PIN codes can be selected, with 10 million possible combinations.
Codes can be added or deleted right at the keypad in seconds.
Secura Key keypads utilize the latest in solid-state piezo switch technology.
There are no moving parts or buttons to stick or wear out.
The units are made of a single piece of aluminum with fully potted electronics inside.
These designs are able to withstand extremes of temperature, wetness and dust, meeting IP68 standards for water proofing and a variety of MIL specs.
The anodized graphics will never wear off.
CLICK-N-LOCK mounting screw protection for added vandal resistance.
Secura Key stand-alone keypads operate at 12 VAC or 12-24 VDC and the non-volatile memory is impervious to power failures.
A form C relay controls all types of electric locks and gate operators.
A remote open input, LEDs and audible buzzer are standard features.