Keypad locks allow for keyless entry. The user simply enters a code to unlock the door and gain access. This has many advantages, especially for business owners.
Mr. Locks specializes in the installation of keypad locks. We can help you choose the right keypad, and install it at your residential building, commercial space or at your business. We have served many types of clients in New York City, including offices, retail stores, restaurants, and other businesses, and continue to provide our quality professional locksmith services at great rates.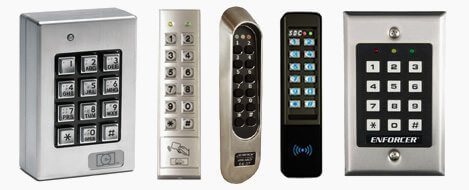 Advantages Of Keypad Locks
Allows for keyless entry. No more lost keys!
Simply inform employers or family members of code. No need to distribute keys
No problems from employee lockouts
Resistant to lock-picking and break-ins
No need for rekeying; easily change the entry codes if security becomes compromised
Types Of Keypad Locks
We only work with the latest models from the best brands on the market, to make sure your security is always the best it can be. We offer keypad locks from IEI, SECO-LARM – ENFORCER, Securitron, and more. You can choose from a wide variety of styles, finishes and features, including:
Choose from touchscreen, numeric, push-button or full digital displays
Standalone keypad locks, or more complex and integrated security solutions
Mechanical keypad locks with traditional deadbolt and springbolt locks
Electronic keypad door locks with either motorized deadbolts or electromagnetic locks
Choose from a wide range of features, such as illuminate keypads for night time use.
Keypad Lock Services
Mr. Locks offers high class keypad lock installation in New York. We combine the best keypad lock products with expert installation from our trained technicians, to give you a truly professional service. We can also repair and replace existing keypads.
If you need help choosing the right keypad lock for you, we are also happy to give advice and demonstrations, to find you the best lock for your budget.
Contact Mr Locks today for a free estimate.